UNISTAT
®

as Excel Add-In

Best-practice statistical data analysis in Microsoft Excel is difficult with existing add-ins and other software tools. UNISTAT is different, adding the power and accuracy of a full-featured statistical package to your existing analysis and visualization workflow.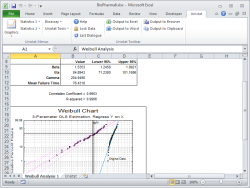 Using UNISTAT as Excel addin is easy. All you need to do is select a block of data and then select a procedure from the UNISTAT menus. UNISTAT's procedure dialogues are intuitive to use and you will not feel as if you are dealing with another program.
By default, UNISTAT will create its output in a new Excel worksheet. You will also have the option to send the same
output
 to Word or HTML for the web.
All numeric results from UNISTAT have up to 15-digit precision, though you can choose to display them with only the desired number of digits. This prevents the build-up of rounding errors when output from one procedure is used as input for another procedure.
Statistical analysis in Excel