UNISTAT
®

 for Excel Tutorial

UNISTAT 10 runs on 32-bit and 64-bit Windows 7, 8, 10 and Windows 2003-2019 Server. UNISTAT add-in runs on Excel 1997-2013 and 32-bit and 64-bit Excel 2010-2019. Unistat 10 is fully compatible with Office 365 desktop.

1. Install Unistat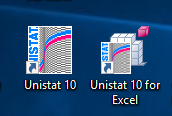 After Unistat setup is completed, it creates two icons on your desktop; Unistat 10 for Excel and Unistat 10.
If Excel is not installed in your system, only the Unistat 10 icon will be added to the desktop.
Start Unistat Excel add-in by double-clicking on the Unistat 10 for Excel icon.
Do NOT add Unistat to the add-ins list within Excel.
2. Enable Macros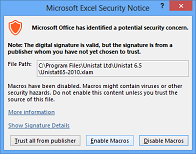 You need to tell Excel that Unistat Excel add-in comes from a trusted source. You can either:
click "Trust all from publisher" only once (recommended), or
click "Enable Macros" each time you start Unistat Excel add-in.
3. Unistat Tab in Excel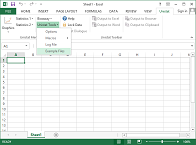 Excel will be launched with Unistat added as a new tab on the Excel ribbon.
The Unistat tab contains two sections; Unistat Menus and Unistat Toolbar.
In Standard Edition, Unistat Menus include Graphics, Statistics 1, Statistics 2 and Unistat Tools and the optional Bioassay module.
In Light Edition, Unistat Menus include Graphics, Statistics and Unistat Tools items.
4. Open a Unistat Example File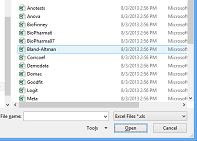 Before you purchase a license for the product, it will only work with the example files provided.
Select Unistat Tools → Example Files.
Open the Bland-Altman file into Excel.
5. Select Data and Procedure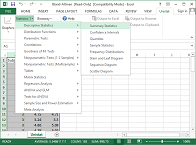 Select the three data columns.
From Unistat Menus, select Statistics 1 → Descriptive Statistics → Summary Statistics.
6. Summary Statistics Variable Selection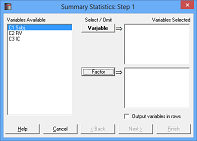 We need to assign different tasks to different types of variables.
Subj. is a categorical variable (i.e. a factor) and RV and IC are continuous variables.
Highlight Subj. on the left list and click the Factor button.
Highlight RV and IC and click the Variable button.
7. Summary Statistics Variables Selected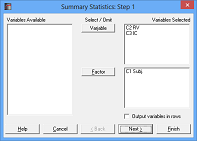 When the selections look like this, click the Next button.
8. Summary Statistics with Categorical Variables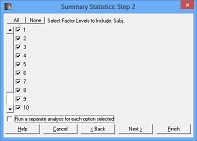 At this step, the program determines the number of categories in the factor Subj. and offers you the chance to include / omit each category in the analysis. By default all categories are included.
Uncheck the Run a separate analysis for each option selected box.
If this box is checked, an output table will be displayed for each category, for the two continuous variables RV and IC.
If this box is unchecked, an output table will be displayed for each continuous variable RV and IC separately, for the categories of Subj..
Click the Next button.
9. Summary Statistics Output Options
The full output from Unistat's procedures may have many more items than you would normally need.
You can select only the relevant output options here.
When the selections look like this, click the Finish button.
10. Summary Statistics Output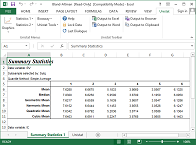 A new worksheet is created for the Summary Statistics output.
Note that Unistat sends numbers with full 15 digits of precision to Excel and it formats the displayed digits using Excel's number formatting functions.
You can change the number of digits displayed from Unistat Tools → Options → Output Number Format dialogue.
11. X-Y Plots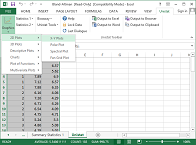 Next, select Graphics → 2D Plots → X-Y Plots from Unistat Menus.
12. X-Y Plots Variable Selection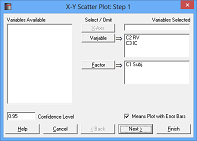 Normally, variable selections made in one procedure are carried over to the next procedure, where possible.
In the demo mode (i.e., before purchasing a license for the product), we need to do the variable selection once again.
Also, check the Means Plot with Error Bars box, to plot the means and standard errors for all 12 categories in Subj. variable.
13. X-Y Plots with Categorical Variables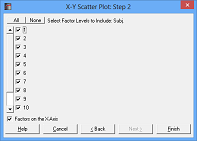 As in Summary Statistics above, all categories of the factor Subj. are listed.
Check the box "Factors on the X-Axis" to plot the 12 categories of Subj. on the X-Axis and the continuous variables RV and IC as data lines.
If this box is unchecked, the categories will be drawn as data lines and the continuous variables on the X-Axis.
When the selections look like this, click the Finish button.
14. X-Y Plots in Unistat Graphics Editor
UNISTAT Graphics Editor supports full on-screen object editing of graphs.
Double-click on the plot area to edit the properties of data lines.
Double-click on a text to edit it. Text objects support use of symbol fonts, subscripts and superscripts.
Double-click on an axis to edit it. Axis scale, range and text can be edited.
All graphics settings can be saved in a graphics template file for subsequent retrieval.
15. X-Y Plots in Excel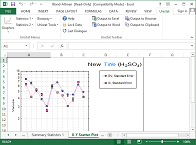 When you finish editing and annotating the graph, click on the Excel button on top-right of the screen to send the final graph to Excel.
The graph is inserted into a new worksheet in Excel.