4.3.1. Pie Chart
The Variable Selection Dialogue for this procedure is similar to that of X-Y Plots. Each data series can be a column of the data matrix, or alternatively, a subsample of a data column defined by one or more factor columns. Any number of columns can be selected but only the first six series are plotted. If you need to plot more than six pies, you can use the Pie Icon Plot procedure (see 8.8.3. Icon Plots).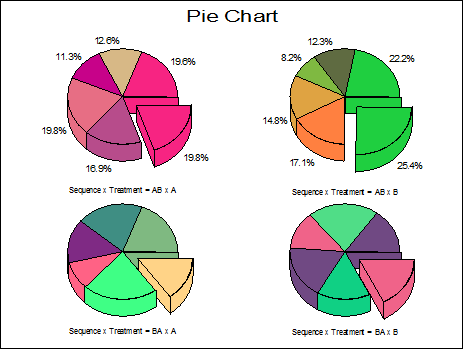 There are no restrictions on the size of the data columns. However, Pie Charts for columns with more than 50 rows look cluttered. In particular, the pie labels must be chosen with care to prevent overlapping. Missing values are simply skipped. Non positive values are considered as missing.
To edit various chart properties select Edit → Data Series. The following controls will apply to all pies.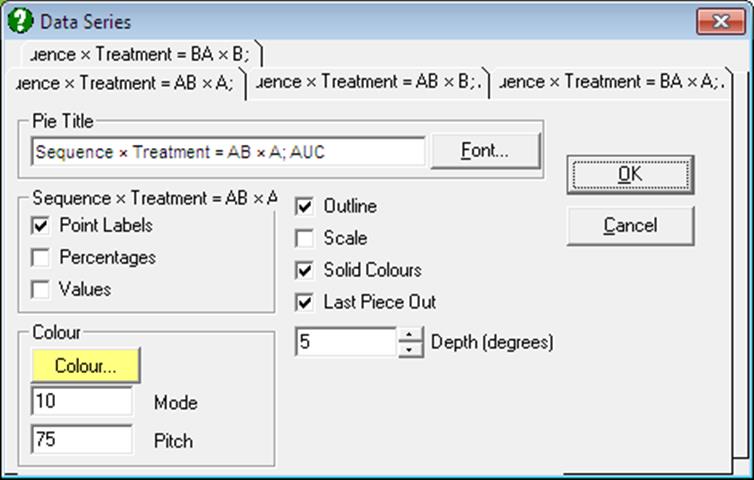 Outline: When this box is checked, the outline of a filled region will be emphasised by a black line.
Scale: When two or more pies are drawn, it is possible to scale pie sizes according to the sum of their values.
Solid Colours: When this box is checked the pie segments will be filled with solid colours. Uncheck this box to fill pies with alternating patterns.
Last Piece Out: The last slice will be exploded.
Depth (degrees): This control is used to set the degree of inclination of 3D pies. When the value is zero pies will be drawn in 2D.
The following controls are available for each pie separately. Select the pie to be edited by clicking on its tab.
Point Labels: When this box is checked Point Labels will be drawn for pie segments instead of their value. The text for labels are entered into Row Labels. If no Row Labels have been entered then the row numbers will be printed.
Percentages: When this box is checked the percentages will be printed underneath the segment labels.
Values: When this box is checked the values of pie segments will be printed. Point Labels and Values cannot be displayed simultaneously.
Colour: The [Colour] button is used to select a base colour for pie segments. The Mode and Pitch values can be edited to obtain a wide variety of colour spectra.