2.3.3. File Menu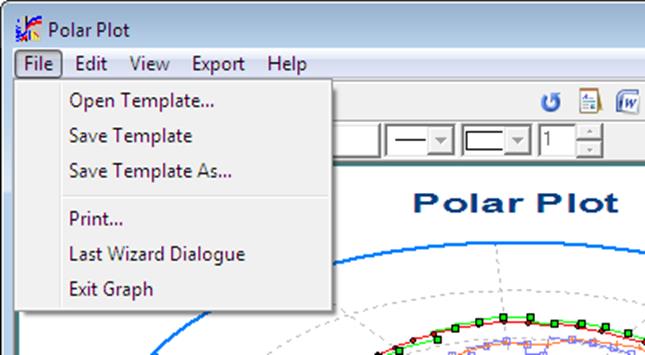 2.3.3.1. Open Template
When UNISTAT is first loaded, it will open and read the graphics template file Graph6.usg which holds the default settings for all graphics procedures. The information contained in this file includes all settings and text that can be edited from the Graphics Editor and its menu system.
Previously saved graphics template files can be opened by selecting File → Open Template. The default file extension for UNISTAT graphics template files is .USG. For more information on graphics template files see 2.3.3.3. Save Template As.
In order to save graphics images in a format readable by other applications, use the Export Menu.
2.3.3.2. Save Template
The program will save the current graph settings to the current graphics template file. If the file name has not been changed, then the settings will be saved to the default template file Graph6.usg and will be opened automatically when you next start a UNISTAT session. For more information on .USG files see the next section.
2.3.3.3. Save Template As
The graphics template files are used to store all information contained in any graph. This includes all parameters that can be edited from the pull-down menus, as well as all objects (text, line and shapes) and their edited positions. The user is responsible for maintaining the compatibility between graphics template files and their corresponding data files.
When this option is selected, a dialogue will be opened prompting for a file name. The default file extension for UNISTAT graphics template files is .USG.
If you would like UNISTAT to retrieve your own choices automatically next time you use UNISTAT, then you must save your graphics template as Graph6.usg file, which can be found in Documents\Unistat65\Work folder. Should you wish to restore the original settings, simply delete this file. The program will retrieve the original Graph6.usg file from the UNISTAT installation folder.
WARNING! .USG files are not graphics files. They can only be read by UNISTAT and contain information about graphics options set within UNISTAT.
In order to save graph images in a format readable by other applications, use one of the options under the Export Menu.
When a UNISTAT graphics template file is saved, all aspects of the graph are saved in the file. However, the data for the graph is not saved as part of the .USG file. Therefore, when a .USG file is saved, it is necessary to ensure that the data is also saved in an accompanying data file, preferably in .USW format. Only when the correct data file is opened can you reproduce the same graph by opening its own .USG file. Although this may seem an inconvenience which is not present in business graphics packages, this is so only because other drawing packages do not support data files containing as many as 1,000,000,000 data points.
2.3.3.4. Print
A dialogue is displayed with three pre-set size options, Full page, Half Page and Quarter Page. A fourth option Custom is provided for customised sizes. Select the desired option and click on [OK] to print the graph. The default Windows printer settings are used.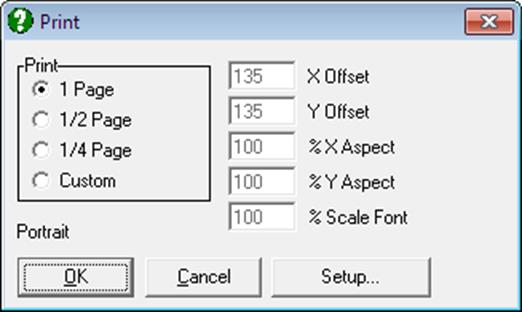 The Custom option will display five text fields, two for the top-left corner, the x-aspect and y-aspect ratios and the font scale factor. These parameters can be edited to obtain the desired location and aspect ratio for the printed graph, which are in printer pixel units. They are saved as part of graphics template files (see 2.3.3.3. Save Template As).
Printer settings can be changed by clicking on the [Setup] button. This will provide access to standard Windows Printer Setup dialogues allowing the control of number of copies printed, resolution, portrait or landscape orientations, etc. If there is one, you are recommended to check the Print True Type as graphics option, since some printers cannot handle properly the rotated True Type fonts.
UNISTAT graphs can also be exported to other applications in one of bitmap (.PNG) or enhanced metafile (.EMF) formats (see 2.3.6. Export Menu.), which are preferable to printing a graph in a file. Alternatively use can be made of a facility provided by Windows to copy the active window to the clipboard in bitmap format. To do this, it is recommended that you first maximise UNISTAT Graphics Editor window to obtain the highest resolution. Then press <Alt> + <Print Screen> to copy the screen to clipboard. Then activate the other application and paste the image by pressing <Shift> + <Insert>.
2.3.3.5. Last Procedure Dialogue
To return to the last procedure dialogue select File → Last Procedure Dialogue. Although most of the changes made in graphics settings will be retained in memory, some settings – like scaling of axes and legend text – may be lost when you go back to the previous dialogue. Therefore, if you wish to preserve all graphics settings, you must save a graphics template file before exiting (see 2.3.3.3. Save Template As).
2.3.3.6. Exit Graph
This option will only push the Graphics Editor to the background and is equivalent to clicking the exit button on the toolbar. If changes are made to data, or another procedure is selected from the menus, then the Graphics Editor will be closed first automatically.